2.0MW (2.2MW DC) ArSun PV project, the largest commercial solar power station in Armenia, set to reportedly provide electricity supply in Hrazdan community were inaugurated by the EPC Shtigen (KSTAR's Exclusive partner in the country) on November 13th, 2019.
Shtigen, the exclusive partner of Phono Solar and KSTAR in Armenia, is a professional PV solutions provider, who is committed to energy saving for business of all sizes and the increase of competitiveness and profitability using the sun.
For the 2.0MW (AC) ArSun plant Shtigen chose 32 KSTAR KSG 60KW and 2 KSG 30KW solar inverters. Power from the system is converted using the advanced technology of KSTAR smart PV commercial solution that includes AC output overloading up to 110%, SVG function with fast response to the reactive power control,low investment, as well as low consumption and high yields.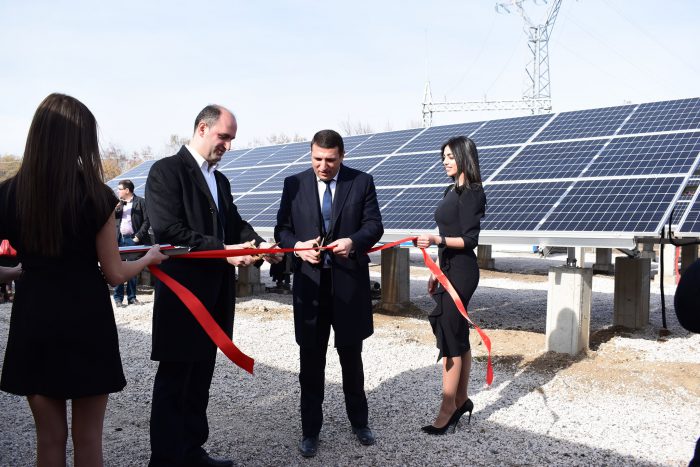 As a BNEF Tier 1 module manufacturer, Phono Solar provided 5832 Bifacial Twin-plus (half-cell) 380Wp PV modules. Comparing with common module, bifacial solar products can better adapt to sand, snow and grassland environment and maximize power generation with 10%-30% extra power output from the rear side. The 2.0MW PV station has 2.2MW photovoltaic power which enables using of peak-shaving technique to increase yield. Its annual power output will reach 3.4 Million kWh, which is expected to offset 1600 tons of CO2 and is equivalent of planting 2475 trees. The project is co-financed by the ArmSwissBank within the framework of the "Programme for the Promotion of Renewable Energies: German-Armenian Renewable Energy Fund (GAF-RE) Phase III" funded by KfW Development Bank and implemented by the German-Armenian Fund of the Central Bank of Armenia with the technical consultancy of Fichtner.